Designing in Brick Series:  Brick Sizes
Brick is one of the oldest and most common building materials used in the world. There are several different types of brick, each available in a variety of sizes, because we recognize the needs of building designs will vary in terms of functional requirements, aesthetic requirements, and local building codes.
Below we'll break down four of the most common brick sizes used in residential construction so you can decide which size of brick is most appropriate for your home style. Regardless of the size selected, your new brick home will provide the same unbeatable benefits of brick that no other building material can offer… for a lifetime and beyond.
 

Modular brick is the most common brick size used in North America. Modular brick dimensions are 3-5/8 in (thickness) x 2-1/4 in (height) x 7-5/8 in (length).

 

Architects, designers, and builders will have the widest selection of color and texture available when selecting a brick in modular size. Another benefit is the ability to create more efficient layouts that minimize the number of brick that need to be cut in order to accommodate design parameters. A larger selection of non-custom shapes are also available in modular size brick than any other brick size.

 

It takes 6.86 brick to cover each square foot of wall area when designing with a modular size unit. Using a typical 3/8 mortar joint, mortar will account for approximately 20% of the wall with a modular size brick, as the brick size increases, the percentage of mortar is reduced.

 

Queen size brick measure 3 in (thickness) x 2-3/4 in (height) x 7-5/8 in (length) and lay 5.76 brick per square foot. A queen size is particularly popular among residential building because it is more cost efficient to install. Given the larger unit, queen size brick install faster and require less mortar.



When coursing out a queen size wall it takes five courses (rows) for every 16 inches vertically while a modular brick takes six courses (rows) for every 16 inches. In general, larger brick require fewer brick to lay and fewer joints to tool.

 

Handmade Oversize brick are a unique and aesthetically pleasing brick selection. Each brick is crafted individually by hand to reveal the true artistry of a classic material with endless contemporary applications. No two handmade brick look identical, and that's exactly why they remain one of the most premium and sought-after brick products available. Glen-Gery's line of handmade brick is rich in character and adds variation to any design. The classic charisma of this brick is matched only by its versatility and ability to enhance any residential or commercial project.

 

Handmade oversize is 4 in. (thickness) x 2-3/4 in. (height) x 8-1/2 in. (length) and take 5.9 brick to cover a square foot of space, a larger unit than a modular brick. These brick are also 100% solid units, without core holes.

 

With a nominal length of two feet long, the Roman Maximus evokes feelings of sophistication, exclusivity, and prestige. Roman Maximus brick is characteristically longer and more linear than those of typical modern brick. They are ideal for creating a regal and distinct look to any structure.

 

The Maximus size measures at 3-5/8 in (thickness) x 1-5/8 in (height) x 23-5/8 (length) in and takes 3 brick per square foot. The Roman Maximus product by Glen-Gery is unique because it is packaged with more than just a single size brick. Seventy percent of the packaging for a Roman Maximus product is at the 23-5/8 in length, fifteen percent is at Roman size which is 3-5/8 in x 1-5/8 in x 11-5/8 in and the balance of the packaging is random lengths from 4 in. to 20 in. This packaging enables the mason to install the brick where no two joints align, called a Sicilian bond.

 

Want to see what each brick would look like on your upcoming project? With the Picture Perfect design tool from Glen-Gery, you can visualize your project with any Glen-Gery brick. Try one look or try them all here.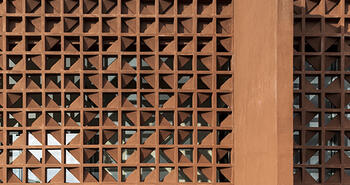 Below are frequently asked questions
About Glen-Gery and Brickworks:
| | |
| --- | --- |
| When was Glen-Gery founded? | Glen-Gery was founded in 1890 in Wyomissing, Pennsylvania by Albert A. Gery. |
| Who owns Glen-Gery? | Glen-Gery was acquired by Brickworks of Australia in November of 2018.  |
| Where is Glen-Gery's Corporate Office? | The headquarter's office is located in Wyomissing, Pennsylvania. |
| What brands does Glen-Gery own? | Sioux City Brick (acquired in 2019), Cushwa Brick (acquired in 2020) and Lawrenceville Brick (acquired in 2020) are all part of Glen-Gery's brick product line offering. Landmark Stone is Glen-Gery's line of manufactured stone. Thin Tech and Tru Brix are part of Glen-Gery's Wall Systems brands. |
| What types of brick does Glen-Gery offer? | Glen-Gery offers a large assortment of over 600 brick products from genuine handmade to molded, extruded, glazed, klaycoat, roman maximus, thin brick, paving brick, special shapes as well as imported products like Venetian Glass Brick, and others. |
| Where are the Glen-Gery factories located? | Glen-Gery operates several brick manufacturing facilities and a manufactured stone factory. View Glen-Gery's locations map. |
| Does Glen-Gery have retail locations?  | Yes! We own and operate several retail stores called Masonry Supply Centers and recently acquired the retail stores of Southfield Corp. View the Masonry Supply locations.  |
| Where can I buy Glen-Gery products? | Products can be purchased from our company-owned Masonry Supply Centers (listing here) or an authorized Glen-Gery dealer/distributor (listing here). |
Brick Terminology:
| | |
| --- | --- |
| What is a brick? | A masonry unit of clay and/or shale, formed into a rectangular prism while plastic and burned or fired in a kiln. |
| What is a typical brick size?  | Modular is the most common size of brick offered. The unit measures 3-5/8" x 2-1/4" x 7-5/8" and takes 6.75 brick to cover 1 square foot of space. |
| What is a Thin Brick? | A thin brick from Glen-Gery is a genuine clay brick that is either manufactured as a thin unit or cut thin. It a decorative unit, not a structural unit. The thicknesses can range but vary from 1/2" thick to 1" thick. |
| What is a cube of brick? | A cube is referred to a large pack of brick. Brick are typically sold in cubes. Most of Glen-Gery's modular brick are in cubes of 520 pieces. |
| What is a stretcher? | A stretcher is the face of the brick. Most brick only have one finished face that is meant to be seen, however some may have two.  |
| What is a bed? | A bed is the top and bottom surface of a brick. |
| What is a header? | A header is the ends or narrow surfaces of a brick. |
| Why do some bricks have "holes"? | These "holes" are referred to as core holes. Depending on the manufacturing facility, the core holes may vary in size and shape. Extruded brick have core holes, but not always (some are extruded as solid units). |
About Handmade Brick:
| | |
| --- | --- |
| What is a handmade brick?  | Glen-Gery Handmade bricks are genuinely made by hand. Our approach is adapted from the ancient art of hand-molding, and our stringent process results in attractive irregularity and unique architectural effects.  |
| What's the difference between handmade and machine made bricks? | Handmade bricks, as opposed to other manufactured brick products, are literally made by hand, making each brick is unique and distinctive in character. |
| Where are Glen-Gery Handmade brick made? | Handmade brick are made, individually, by hand at Glen-Gery's Mid-Atlantic Plant located in Shoemakersville, Pennsylvania.  |
About Molded Brick:
| | |
| --- | --- |
| What is a molded brick?  | Glen-Gery's molded brick products are machine molded, meaning a machine presses clay into wooden mold boxes. Not all voids are filled, which gives an irregular softened edge that add character to each brick.  Molded brick are solid units (no core holes), some contain frogs. |
| What is a brick frog? | A frog is a depression in one bearing face of a molded brick. The frog reduces the weight of the brick. Not every molded brick has a frog |
| Where are Glen-Gery molded brick made? | Molded brick are made, in wooden molded boxes at Glen-Gery's Mid-Atlantic Plant located in Shoemakersville, Pennsylvania, as well as our Iberia Plant in Iberia, Ohio.  |
About Coated Brick:
| | |
| --- | --- |
| What is a "coated" brick?  | Glen-Gery offers three types of coated brick: glaze, klaycoat or engobe brick. All three coatings are fired on ceramic coatings and will not break down or fade. These three types are all manufactured at our Hanley Plant in Summerville, Pennsylvania.  |
| What is a glaze? | Glen-Gery Glazed bricks are extruded clay bricks that have had a glaze applied to the outer surface, which is then carefully (single) fired to produce long-lasting, vibrant results. This glassy impervious coating that can be from a matt color finish to a high gloss and is typically resistant to graffiti and abrasion. Glazed are most commonly a glossy finish. |
| What is a klaycoat? | A Klaycoat is a permeable coating that bonds to the surface of the brick and allows liquids and vapors to pass in and out without compromising the overall brick aesthetic. Similar to a glaze but has a very matt/chalky color texture. Color and texture is closer to a stone or natural material look than glaze which tends to be a higher gloss. Coating is generally thicker than an engobe. |
| What is an engobe? | An engobe is a clay based coating that is typically applied as a thin coating which allows the texture and sometimes the color of the body to partially show through.  |
RAMSA Partner Grant F. Marani hosted a lecture hosted at the Brickworks New York Design Studio, where he discussed brickwork traditions that have influenced his practice as an architect as well as two of his projects—the Immanuel Chapel at Virginia Theological Seminary and the International Quilt Museum in Lincoln, Nebraska. By pairing a chapel evoking ecclesiastical forms with a museum featuring a modern patchwork of texture and color, Marani will posit that brick's materiality is inherently liberating rather than limiting; brick is beyond style.
The 8,838 square foot, custom, modern home in McLean has a unique mixture of Piet Mondrian art and Frank Lloyd Wright architecture. The location is well known to many diplomats, military, members of Congress, and other high-ranking government officials due to its proximity to Washington, D.C.

This home was set out to be the essence of modern luxury with custom features and finishes, and truly unparalleled design. The exterior façade of this home uses a mix of high-end building materials including the through-body black brick, "Romero" imported from Spain as part of Glen-Gery's La Paloma Series, carbonized wood siding and asymmetrical siding panels. Not only does this home feature brick on the exterior, but also incorporate the breathtaking black "Romero" Thin Brick throughout the interior of the home from the 10-foot wide floor-to-ceiling fireplace to the bathroom walls and floorings.

"We set out to build a home like no other that integrates sustainability and beauty. This special home has stories behind many of the hand-selected and sourced features. I look forward to sharing it with a buyer that appreciates the attention to detail and unique qualities." -Ahmad Khreshi, Founder and President, Home Perfection Contracting.
Builder :
Home Perfections Contracting
Distributor :
Glen-Gery Masonry Supply
Romero Private Residence Case Study.pdf
McClean, VA
The Waycroft, located in Arlington, Virginia, is a 61,000 square feet multi-residential building with three levels of underground parking that sits on an entire city block in the well-known neighborhood of Ballston.

The broad curve façade of The Waycroft makes for a dramatic landmark at a critical intersection of Glebe Road and Wilson Boulevard, linking the commercial business district with a residential community. This building offers 491 units, with retail giant Target and the Silver Diner restaurant located on the ground level, occupying about 100,000 square feet for retail purposes.

This remarkable project features multiple façade heights that create three unique architectural buildings, all linked with separate entrances, utilizing various brick colors, shapes and textures from Glen-Gery. Each building possesses a unique aesthetic design yet blends seamlessly into the surrounding neighborhood, and each other.

The project features blends of several brick colors from light cream to deep red across full and thin brick sizes. The combination of brick bond patterns and color mortars utilized alongside the custom corner details of precast and brick quoins as well as other materials, provide interest, depth and dimension to this breath-taking city block.
Architect :
David M. Schwarz Architects, Inc.
Distributor :
Glen-Gery Capital Brick Masonry Supply Center
Arlington, VA
Designers, architects and homeowners can create a picture perfect home or building using Glen-Gery's newly enhanced Virtual Design Tool, fully loaded with Glen-Gery products and colors.
Major technology upgrades to the tool allow a user to "See it before you live it," choosing a home style that best matches their vision then applying product to fully visualize the outcome. The design process starts with going directly to the Glen-Gery website or by scanning a QR Code located on a sample chip in a Brickworks Design Studios. No QR code on your sample? No problem, simply use the search to find product name.
To help visualize brick or stone styles on a building, the website offers three options:
PICTURE PERFECT




Use one of our pre-loaded commercial or residential images.


 

PICTURE PERFECT DIY




Upload and prepare a custom image with auto-mask


 

PICTURE PERFECT PRO




Have us professionally mask a custom image for a small fee.
According to Denise Smith, Marketing Manager, the tool is used mostly for residential design as architects have their own rendering software to realize commercial building design.
"With over 600 Glen-Gery products to choose from, the selection process has been overwhelming in the past," she said. "The enhanced user interface and updated tool makes it much easier to select a product and apply it to all a home."
Typically, homeowners will select one of our pre-loaded images or upload or their own image. That could include a sketch, front elevation, or a photo of their own home, or a neighboring home.
With the new enhancements, users can go from the Glen-Gery website directly into Picture Perfect with a product pre-selected so all that is needed is to select a home style.  The visualizer also links back out to the Glen-Gery, making the two sites fully integrated and allows a user to view product details while applying the product to a home.
Other enhancements to the tool include viewing projects full screen, adding paint to wall sections, access to trending color palettes and a larger variety of stock images. Users have the ability to change roof, window, door, trim and mortar colors to completely design the
Should a couple want to visualize different products on their home, a comparison slider allows them to compare and print two designs simultaneously.
User friendly. Innovative. Check out Picture Perfect here: https://www.glengery.com/visualizer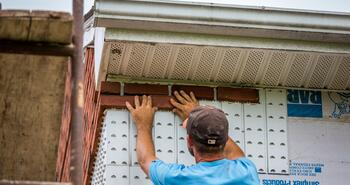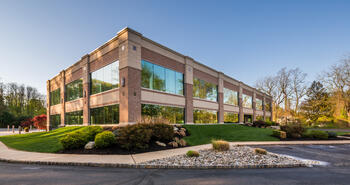 Stratford Thin Brick, Thin Tech Classic