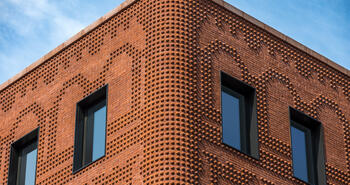 Minds Behind Design explores the design process behind architectural projects. Our latest episode features Gabe Deck, an architect from Gnome Architects, who discusses his actions when planning and designing a new piece of architecture.
This mixed-use 18-story tower in the heart of Jersey City's Powerhouse Arts District features a residential living above a retail and public arts podium. The complementary entry portals define the black box theater and residential portions of the building, which are wrapped in chamfered bronze panels.
A custom white engobe brick was selected for the façade for its durability and warm, residential feel. Its small scale and modularity allowed for flexibility of the façade design within a cohesive framework. The direction for this project was to create a building that was both novel and exciting, and timeless and familiar.
Architect :
Fogarty Finger Architecture
Jersey City, NJ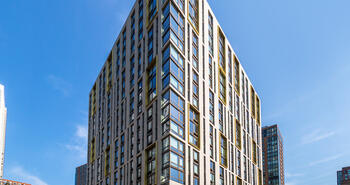 This case study features a unique U-shaped luxury apartment building located in the heart of Mineola, known as Morgan Parc. The masonry façades of Morgan Parc draw upon turn-of-the-century mill buildings whose architecture is expressed in their strong deep structural piers and intricate brick detailing. The expansive project utilized over half a million of Glen-Gery's Charleton Colonial bricks and more than 100,000 special shapes to create the complex details that aid in humanizing a building of such scale. The brick piers extend the full height of the building, opening up at the ground floor to create a retail arcade that wraps the courtyard. Sizeable industrial size window units span between the deep piers, flooding the apartments with natural light.
Distributor :
State Material
Morgan Parc case study.pdf
Minneola, NY